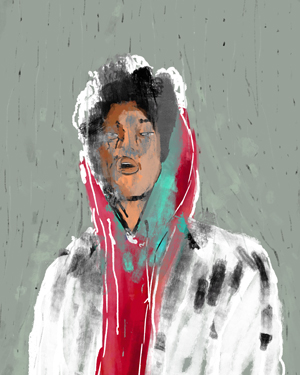 Stephan van den Brink is freelance Art Director, Designer and Animator based in Amsterdam, the Netherlands. He has a proper amount of street credibility and is usually lit behind his monitor. He loves to explore and exploit his creative ideas throughout divers projects. These ideas can be executed within different styles and techniques to transform into products like animations, visuals, music videos or short films.
Stephan is alway open for collaborations with other creatives, studios, companies, musicians, designers or artists. If you have any questions or inquiries, email the dude. Stephan works in a renovated school building in Amsterdam West where he shares a studio with five other creatives and a cat. Stephan hasn't seen the cat for a while now so he assumes the cat is dead. Besides working at the studio he also loves working on remote and is willing to work on location for certain projects anywhere around the globe.
He spends his spare time playing soccer, running, listening to vinyl or playing around while making electronic music as Jar Jar Brinks.
For any collaborations, inquiries or questions:
stephanvandenbrink@gmail.com
+31 (0)6 282 570 94


Featured Projects:
* Art Direction stop-motion animations for Peaks in collaboration with Michiel Spijkers / Sticky Stuff
* Art Direction rebranding 24Kitchen in collaboration with Holland Centraal
* Visuals in collaboration with Ruud van Eijk for Armada Music
* Direction short film Secret Sounds
* Visuals music video for Dr. Lektroluv with Mr.Beam and The VideoMatic
* Direction music video for rapper Akwasi – O.N.Z.I.N.
* Visuals in collaboration with Ruud van Eijk for Q-dance / Tomorrowland Belgium and TomorrowWorld Atlanta
* Visuals in collaboration with Ruud van Eijk for Q-dance / DJ Wildstylez at Mysteryland Chile
* Direction music video for DJ/Producer Simon Weiss
* Animation for a beam-installation inside the Nike-store of FC Barcelona stadium with Mr. Beam
* VFX for openingfilm Museumnacht Amsterdam with Tom Geraedts at Cake Film
* Design and Animation for Bose Pro Product Launch with Mr. Beam
* Art Direction at Cape Rock for rebranding NOS (including NOS News, NOS Sports and NOS Events)
Nominations:
* Shortcutz Amsterdam Annual Awards for Best Experimental in EYE
* PromaxBDA Europa Rookie of the Year
* School of Arts Utrecht Graduate / Graduation-project of the Year (all faculties)
Exhibitions / Screenings:
*Secret Sounds at CutOut Fest in Mexico
*Secret Sounds at Animation Film Festival – Gdansk in Poland
*Secret Sounds at Lowlands Festival in the Netherlands
*Secret Sounds at ShortCutz Amsterdam in the Netherlands
* Netherlands Film Festival x Top Notch (music video Akwasi – O.N.Z.I.N.)
* Speaker at Pecha Kucha Amsterdam #26 in Amsterdam Roest
* D.A.C.S.-exhibition at Red Bull space in New York City
* Netherlands Film Festival (Title Design / Animation for film 'Half.')
* GoShort Film Festival (Geheime Wonderen)
Online Publications:
* Motiongraphics.nu
* Computer-Arts
* Ventilate.ca
* Forget the Film, Watch the Titels
Print Publications:
* Advanced Photoshop UK Issue #72
* Graphika Manila Book in Pasay City, Philippines